Go Back
Lobster Marries Crab
September 2, 2014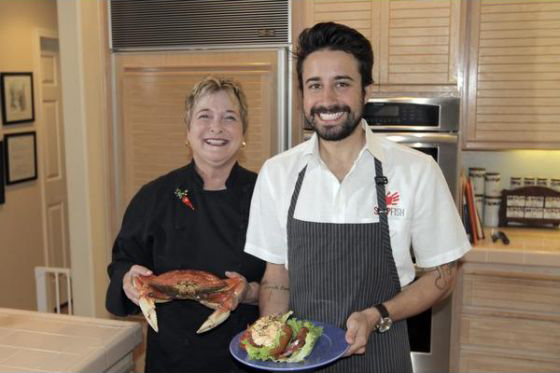 Andrew Gruel, chef and CEO of Slapfish Restaurant Group, knows what makes an irresistible lobster roll. His repertoire also includes a crab-spiked rendition dubbed Clobster Roll, a half New England lobster-half Dungeness crabmeat creation. It hoists the allure even higher.
Both versions let the cool, gentle sweetness of the shellfish shine through, the picked meat dressed in a mayo-sour cream mixture that boasts just-right acidity derived from fresh lemon juice and zest. More flavor bling is added with a smidgen of Sriracha hot sauce and Colman's mustard, plus some snipped, fresh chives and Old Bay Seasoning. For crunchy contrast, the roll is butter-toasted until nicely browned and warm, and augmented with a judicious salad component. Crisp lettuce and sliced heirloom tomato snuggle in before the bun is liberally seafood stuffed.
A New Jersey native and self-proclaimed "ocean-a-holic," Gruel is a graduate of Johnson & Wales University in Denver and Providence, R.I., where he earned degrees in culinary arts and food marketing. His Slapfish fast-casual eateries, known for their modern fish-shack menus and dedication to using sustainable seafood, will soon have three locations in Orange County, with a Balboa Peninsula location joining the Huntington Beach and Laguna Beach restaurants in the fall.
On the international scene, the first Slapfish franchise has opened in Dubai, with a second due in November. American restaurants and shops are popular in Dubai, especially in enormous malls where Cheesecake Factory and P.F. Chang's share foot traffic with retailers such as Bloomingdale's and Forever 21.
Slapfish Clobster Rolls
Yield: 4 servings
4 elongated top-split rolls (butter rolls, hot dog rolls, Hawaiian sweet rolls or baguettes)
For toasting bread: about 2 tablespoons softened butter
1/4 cup mayonnaise; see cook's notes
1/4 cup sour cream
2 teaspoons Colman's prepared mustard, or more to taste
1/2 to 1 teaspoon Sriracha hot sauce, or more to taste
1 lemon (minced zest and juice to taste)
2 tablespoon snipped chives
1 tablespoon Old Bay Seasoning