Go Back
Grill up seafood! Surf 'n' turf burgers and shrimp cubano
July 30, 2014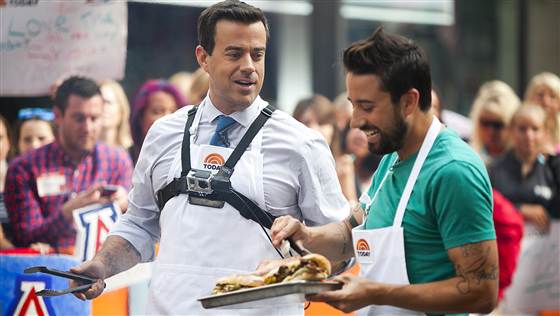 Seafood and summer go hand in hand, so make sure not to miss out on one of the most popular foods of the summer season. Chef Andrew Gruel shared two of his favorite seafood recipes, and as part of Fresh Cooks Live: Summer Sizzle, he showed how to whip up this recipes on Thursday through TODAY.com's live stream.
Surf 'n' turf burger
For the burger:
2 lbs. ground chuck (80-percent/20-percent)
4 burger buns (preferably brioche)
1 head green leaf lettuce
1 large heirloom tomato
1/2 cup English cucumber, sliced
1 pound of Dungeness or blue crab (any U.S. or Canadian crab)
1 white onion, sliced
1 cup muenster cheese, shredded
For the sauce:
2 tbsp. of sliced chives
1 lemon, juiced and zested
1/4 cup malt vinegar
1 tbsp. sugar
3/4 cup mayonnaise
1/4 cup sour cream
3 tbsp. Dijon mustard
1 tbsp. Old Bay seasoning
1 tsp. black pepper
To make the burgers:
Grill the burgers over medium-hot coals until they are medium done. Cook the onions either directly on the grill grates or in a saute pan on the grill. Add the crab meat to the onions and continue to cook. Remove the onions and crab from the grill and reserve.
To make the sauce:
Combine all ingredients thoroughly.
To assemble:
Put the onions and crab in a large bowl, and toss with cheese and some of the sauce. Toast the bun lightly in the burger juices.
Spread the sauce over the entire bun without making it soggy. Add the lettuce, tomato, cucumber, burger, crab mixture and top with another bun spread with sauce. Serve.
Shrimp Cubano sandwich
For the sandwich:
1 2 lb. center-cut pork loin (one piece thinly sliced)
4 ciabatta bread rolls
1 pound of shrimp, peeled (preferably from the US)
8 slices gruyère cheese
4 whole dill pickles, sliced in 1/2-inch slices
For the pork marinade:
1 teaspoon cumin
2 cloves garlic, minced
1/2 lemon, juiced and zested
1/4 cup olive oil
1 tablespoon soy sauce
1 teaspoon Dijon mustard
For the sauce:
1/4 cup Colman's mustard
1 teaspoon Tabasco sauce
1 teaspoon honey
2 tablespoons mayonnaise
1 lemon, juiced
To make the marinade:
Combine all the ingredients. Toss the pork loin slices and shrimp in the marinade for a few minutes.
To start the sandwich:
Place shrimp and pork on a hot grill or griddle. Cook untouched for 1 minute. Turn the shrimp and the pork and baste with some marinade.
To make the sauce:
Mix all ingredients for the sauce.
To assemble:
Spread sauce on the bread. Line with cheese and pickle on the bottom piece. Remove shrimp and pork from the grill and pack onto the sandwich. Drizzle with more sauce and top with remaining cheese. Close sandwich, press together and quickly toast on the grill, about 1 minute per side.